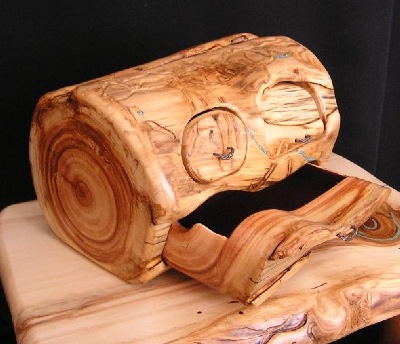 Aspen jewelry box with turquoise and copper inlays and handmade copper pulls.


Welcome to the home of Bears in the Wood and Aspen Bears and Paws. We harvest standing dead aspen in South Park, Colorado to make our functional CraftiArt. A lot of the park is around 10,000 feet and above. Browse our site for aspen birdhouses, candle holders, pet diners, pet log beds, sorcerers lamps, agate tables, wine racks, lamps and shades, old barnwood birdhouses plus other creations. We also use some beetle kill pine from other areas.

We love to think up and add new aspen art every year. That's really the fun part.


We have been receiving more and more custom orders. They have been everything from different sizes for the pet diners to tables and benches. Check out our show listings and come out and see us!



If you would like to contact us, please check out the Contact button.






Lovie just loves to pose.

Don't miss her showing off our aspen log pet beds.

Just click "CraftiArt" then "This 'N That"